Manitowoc 21000 visits Davis Besse!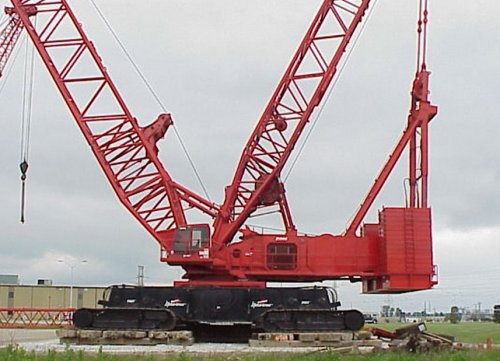 1000 Tons of capacity were needed for a test lift to certify a Reactor Head lift tripod!
Crane Art: "crossed boom" appearance :)
Crane Assembly: Manitowoc 21000 Boom attachment phase
The 1000 Ton Hook Block
A view from my office building roof!
Manitowoc 21000 with cooling tower in background
Manitowoc 21000 ready to go
Manitowoc 21000 loads up with 622,000 lbs for tripod test 6/4/01!
Note: All pictures on this site were taken by me using Sony Mavica model 91.
Professional Manitowoc Crane related sites:
Manitowoc Cranes: Home of the best large capacity cranes in the world!
All Crane Rental: Owns 2 of the Manitowoc 21000's!
Terex DeMag
Crane Hobby / Models: Big Cranes
Lampson Pic
Lampson International
Mammoet
World Class Riggers: Versabar
Another kind of specialty construction: Slipforming!